5 Ways Audience Demographics Can Improve Your Digital Marketing Campaign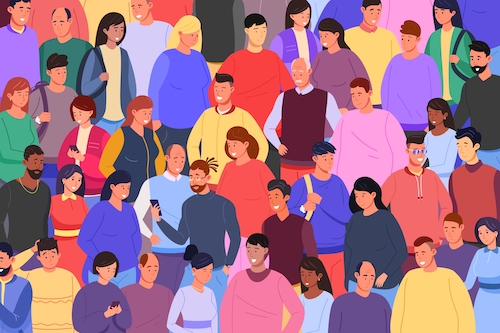 Creating a digital marketing campaign that helps you meet all the metrics can be a complex process. Designing your campaign to suit the needs of your audience is vital to making an impression.
This is where audience demographics can make a difference. Here are five ways in which paying attention to those statistics can boost the results of your digital marketing campaign:
Audience Demographics: What Does It Mean?
Demographics can be defined as identifying particular characteristics of an audience located in a particular geographical location. The more information you collect, the better your chances are to identify common attributes that link different members of the audience, helping you to segment them into smaller groups.
Collecting such information helps you to distinguish your prospect from the rest of the traffic that your website may be receiving. Whether it's on the basis of age, gender, or location, demographic data can help you create your marketing campaigns with more precision and target your audience with specific content.
Here are five benefits of using audience demographics for your digital marketing campaigns.
1. You Can Promote the Product to the Right Customers
It's no longer enough to follow a one-size-fits-all approach when designing your campaigns. Trying to target everyone means you may fail to target anyone. Demographic analysis plays a crucial role in providing valuable information about the tastes and preferences of your audience. You can leverage that information to deliver a personalized experience to your customers, and using it repeatedly can help you bag repeat customers and boost your sales.
Say, for instance, you are creating a digital marketing campaign for a company selling diapers made from organic fabric. To make the campaign a success, they would need to target young mothers who are using diapers for babies and toddlers and want to use a sustainable option. You may also need to rope in mom influencers to promote the product. In this case, using detailed insights about which social media platform your target audience is most active with, what time of week or day they are most active, and what kind of influencers they follow can help you refine your messaging.
2. You Can Decide What Type of Content to Cover
Choosing the right content format is a crucial part of designing digital marketing campaigns. Unless your content is relevant to your audience, they are unlikely to respond positively. For instance, your target audience may prefer to consume the information through interesting Reels or IGTV videos instead of simply reading static posts on Instagram.
And you cannot find out this information without taking into account the audience analysis. You can find out the topics your audience is interested in, the formats they prefer, where they search for their content the most, and their preferred platform for consuming content.
For example, say your services are targeted at busy professionals. The demographic information may also reveal that they prefer reading long-form content. Leveraging this information, you can send them a detailed eBook or whitepaper explaining what benefits your service provides for the challenges they may face.
3. You Can Keep Your Costs in Check
With new trends popping up daily, it can often be tempting to simply follow the crowd. Digital marketing can quickly become a bottomless pit unless you manage your costs and your time carefully. Moreover, blindly jumping onto the bandwagon can mean poorly designed and ill-executed moves that fail to make an impression.
When you know the pulse of your audience, you can design an effective marketing plan to reach out to them. Quality demographics can play a crucial role in cutting down unnecessary costs and keeping your marketing efforts laser-focused. Not only can this help you to reallocate the money you save to other needs, but it can also improve your ROI by ensuring that the ideal audience finds its way through your campaign.
4. You Can Beat the Competition
Poorly targeting audiences through formulaic and archaic marketing campaigns reduces conversion rates drastically. Remember, the attention span of the audience is constantly shrinking, so unless you are able to offer them something that they can instantly take note of, you are probably going to lose them. This can give your competitors an edge over you.
So when you drill down exactly what your audience is like and what it prefers, it can go a long way in attracting the right people. They will be eager to engage with your campaign and increase the conversion rates, helping you to beat the competition.
5. You Can Keep Your Customers Excited
The secret of powerful marketing is the idea of "new." Anything new that scratches the itch is bound to work with your audience. However, you cannot entirely depend on guesswork to find out how an audience feels about your marketing campaign or whether the campaign meets their needs.
To ensure that your digital marketing plan hits the nail right on its head, you need to know your audience inside out. You can use demographic data to understand more nuanced details of how they interact with a brand, what motivates their purchase decisions, and what it is that they expect from a brand and its marketing efforts.
With access to such detailed insights, you can approach digital marketing with a better strategy. You can infuse fresh content into a campaign to ensure it always catches the audience's attention and gives them something new to look forward to.
In Search of an Agency That Can Effectively Use Audience Demographics in Marketing Campaigns?
Teaming up with the right marketing agency is an essential aspect of running successful campaigns. InnoVision is here to help you—our range of services includes designing effective campaigns to showcase your business. We are known for the innovation, consistency, and uniqueness that we add to everything that we do. We are committed to the goal of delivering the best brand experience for the end user.
Reach out to InnoVision and watch our marketing magic unfold.